About Crater Moon Stories
These stories are written and animated by children's book illustrator David Udovic and his wife, Susan Udovic, a Licensed Professional Counselor in NJ.
There are some guidelines that we find essential to follow in online storytelling. We don't want the animation to dominate the story. The goal is to strengthen reading skills. Animation, sound, and interaction should carry the child's imagination, not overtake it and replace the child's own ability to imagine through words. After all, that's what reading is all about! The role of a good children's book illustration is always to embellish the written word.
The Sir Albi™ and HatBand'it™ story was our first venture into animated story-telling. We took a general script, the "Read It" version, and added animation, character voice, and sound effects to the text. Since then, we have evolved the animated story-telling approach to be senitive to parent/teacher and child interaction. You will find the new series of stories about Boom and Zoom on Crater Moon™ are written in two versions. "Look & Listen" and "Look, Listen, & Read.". The "Look & Listen" version reads the story to you. The "Look, Listen, & Read." version is designed to support co-reading, between parent/teacher and child, using a new, innovative format. It reads like a play in which the parent/teacher plays a part, that of the narrator. Your narration is assisted by action and sound effects. At other points in the story, the characters speak and move.
Please feel free to email us with any feedback you have about the stories. Are they working to support your storytime experience? Do you like the characters and story? Does the navigation seem intuitive? We'd love to hear from you! Write to us at info@davidudovic.com.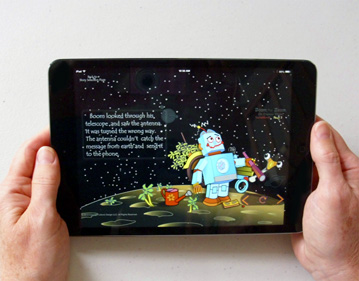 Boom and Zoom on Crater Moon™