Frequently Asked Questions
What kind of murals do you paint?
Through formal training in Fine Art and 32 years experience as a professional artist, I have the creative skills and knowledge of form and paint that can tackle any subject appropriate for your space. In other words, I can accomplish in a mural whatever you can envision.
How long will my room mural last?
An interior mural can last as long as the wall it's painted on. Therefore, it is important that the wall be structurely stable and its surface properly prepared. Below is an example of a monochrome mural I painted as a young teenager in 1965 in a breakfast nook. This photo was taken almost 40 years later and demonstrates cracking and flaking of the base plaster due to structural stresses. The image will remain as long as the base plaster and primer can hang on. Yet, not bad for 40 years! In room areas where hands may leave their grime, murals can be coated with a clear acrylic varnish that allows washing with a mild soap.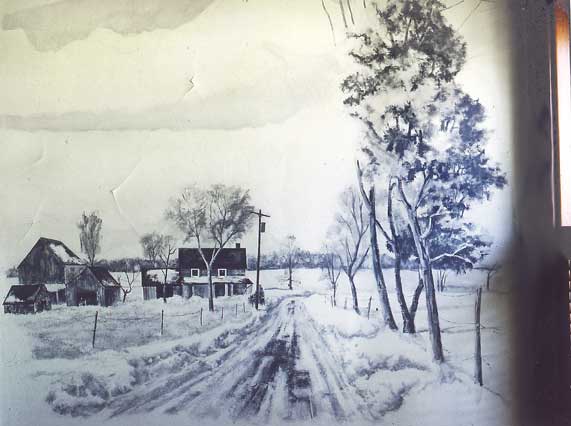 (click on image for close-up)
How much will a custom mural cost?
The price of any mural can run between $10.00 and $60.00 per sq. foot. The price is based on many factors that include the complexity of the design, style of painting, size, material and equipment needed, mural's location, time constraints and travel distance. In an initial free consultation I can review your ideas and requirements for your mural project and present you with suggestions that will fit your space and budget. If in agreement, I will provide a "rough" sketch and detailed project estimate through a free follow-up meeting.
I'm not sure what I want. Will you present me with creative mural ideas?
I will gladly discuss during a free initial consultation your desire for a custom mural that speaks to you. In cases where there is extensive exploratory design or several design alternatives requested in sketch form, I require a non-refundable deposit. This deposit will be applied to the cost of the final mural if you choose to commission it. The fee is $250 and up.
We like the mural design you have presented. What's next?
When you are satisfied with the final mural design a contract will be drawn that outlines the project requirements and the payment schedule. Typically, it takes two to four weeks to complete a mural. Payments are made in three equal installments: first at the signing of the contract, second at a halfway milestone, and third at mural completion. It is important to have good communication at the beginning of the project so that changes can be kept to a minimum. If changes are requested that require substantially more work and materials, a price adjustment and amendment to the contract can be made.
How far will you travel?
For onsite mural projects I will travel within a 40 mile radius of Middletown, New Jersey. Projects beyond this distance will require an additional fee for travel and lodging. In my studio, large murals (maximum height 13 ft) can be painted on canvas or other mountable substrates and shipped to anywhere in the world. There can be substantial cost-saving in executing a mural this way. An example is the State Mural Project, "Utah Harvest". Contact me through email for studio bases mural projects. info@davidudovic.com
How do I schedule an initial consultation?
You can contact me by email. info@davidudovic.com.
Here are a few question to ask yourself before we meet.
Where do I want a mural?
Do I have a theme or style I like?
Are there examples or photos of images that I can show?
What is my budget for this project?
Do I have time constraints?
Remember, the more information you can provide the better I can serve you.