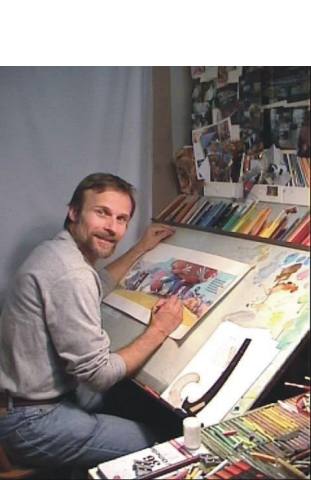 Murals....Creative Story-telling on a Grand Scale
As a student of Fine Art at the Unversity of Cincinnatti, I exhibited as a painter and sculptor in local galleries and for two years directed the University's Tangeman Art Gallery. In 1972 I received my BFA degree and found work immediately as a graphic artist, designing national tradeshow displays for Downing Displays Inc. During the six year stint with Downing, I continued to paint grand landscape narratives in my studio. My life as a muralist today is rooted in these large canvases and walk-through commercial backdrops of the tradeshow arena. In 1989, I was commissioned by the State of Utah to paint a large scale narrative of their history in a hi-tech fashion. Since then, my interest in narrative art has grown to include children's book illustration. I have completed numerous illustrations for children's magazines including Ladybug, Spider, and Hopscotch and illustrated three children's books: Aunt Matilda's Almost Boring Party , authored by Jane Morris Udovic, published by Front Street Press in fall of 2009; A Child's Guide to Common Household Monsters, written by Scott Thatch, published by Front Street Press in fall 2007; and Eight Wild Nights: A Family Hanukkah Tale, written by Brian P. Cleary, published by Kar-Ben Publishing in fall of 2006.
Today I continue to explore new ways of presenting creative story-telling on walls, on paper, and online. You can find out more about me at www.davidudovic.com.